Ece r44 04 Label
ECE R44/04 and i-Size (UN R129) approval labels
The orange ECE R44 approval label guarantees that the car seat complies with the basic safety requirements as set out in the European safety standard ECE R44. The orange label can also indicate that the car seat complies with the new i-Size safety standard and thereby guarantees an even better safety performance.
Bébé Confort recommends to always try and test a seat before the purchase.
Warning: from April 2008, all child car seats that were manufactured before 1995 and approved to the ECE R44/01 and 44/02 standard are no longer legal and must not be used or sold. Only seats displaying the European Standard orange label, indicating approval to the Standard to ECE R44/03, ECE R 44/04 or i-Size (UN R129) may be legally used.
What does the approval label tell me about my seat?
Your seat meets the European Safety Standard. Note the last two digits: these should end in 04 (latest version) or 03. R44-01 or 02 are not legal

 

and may not be sold or used since 2008.

For ECE R44-04 or ECE R44-03, there are 3 types of car seat approval: universal, semi-universal and vehicle specific. 'Universal' means your seat is approved for installation in all cars, although you should check that the seat fits really well in your car. See below article on 'Type Labelling'.
Approval for weight (group). If a letter Y is added here, it means that the child seat features a 5-point harness system with crotch strap.
European approval indicator.
Indicates the country in which the approval was obtained: 1=Germany 2=France 3=Italy 4=the Netherlands etc.
Approval number. The first two numbers (04) show to which version the child seat has been approved, in this case ECE R 44/04.
Unique number allocated to your specific seat, for testing and tracking.
Production details: week and year, in this case week 7, 2006.
Manufacturer article reference number
 EAN code
 BAR code
 Name of product manufacturer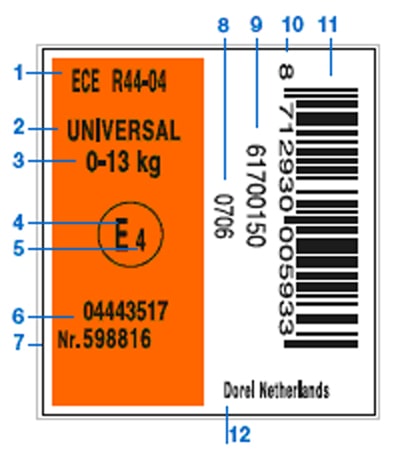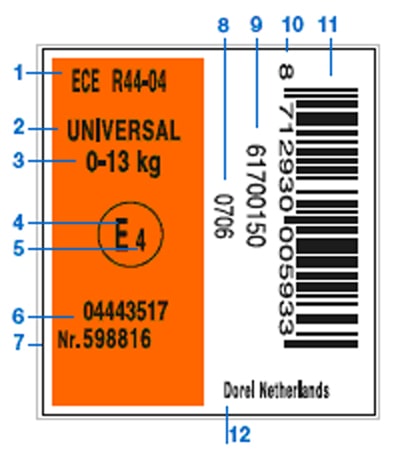 Type labelling: (semi-) universal or vehicle specific
To determine if a child car seat fits your car, there are 3 types of car seat approvals: universal, semi-universal and vehicle specific. Universal approval isn't vehicle specific and the seat is approved and is suitable for installation in all cars. An approval label will indicate one of these categories.
Universal approval
The seat is approved for use in all vehicles that meet ECE R14 and R16 regulations. Any ISOFIX car seat must use the ISOFIX anchorage points including the top tether or foot support. In all ISOFIX cases this solution must be used and the vehicle's handbook must state that the car is suitable for "Universal ISOFIX child seats".
Semi-universal approval
Semi-universal approval is when, in addition to the standard requirements, other safety devices for attaching a seat are used and require additional testing. For example: some vehicles provide additional storage space within or beneath the floor area that can influence the behavior of a child seat foot support, therefore you need to check the child seat manufacturer's car fitting list. if your car type and model is listed as suitable for use.
Vehicle specific approval
The child seat is tested in an additional car-specific dynamic crash test and approved only for these cars. The car must be listed in the child seat manufacturer's car fitting list. This may include special features or designs that can only be installed in a car of a specific type.
Orange i-Size (UN R129) label
i-Size (or UN R129) approved car seats can be recognized on the approval label by the "i-Size" indication. Additionally, one can easily find the appropriate length classification of the car seat on the label. The remainder of the approval label looks alike the ECE R44 label.


Approval labels around the world
Australia   | Australian Standard AS 1754 | New Zealand | New Zealand Standard NZS 1754
The Australian and New Zealand Standard label, also known as the 'five ticks' approval, indicates reliability, quality assurance and safety as the product's most valuable attributes.
National child restraint laws were introduced in Australia on 1 July 2010:
Children up to 6 months old must use an approved rearward-facing infant restraint and must not travel in the front seat of a vehicle that has two or more rows of seats.
When fitting a rearward-facing car seat in a vehicle with only one row of seats it must have child seat fitting points available and any airbag in that position must be switched off.
Children from 6 months to 4 years of age must travel in a fearward-facing or forward-facing child safety seat.
Children from 4 to 7 years old must use a forward-facing car seat with

 

inbuilt harness or a seat that is fastened with the regular adult car seat belt.

From 7 years and older, children must use a child (booster) seat and be restrained with an adult car seat belt or child safety harness or when tall enough, a correctly fitted adult seat belt.
For more information, download the official brochure on Australian child restraint law.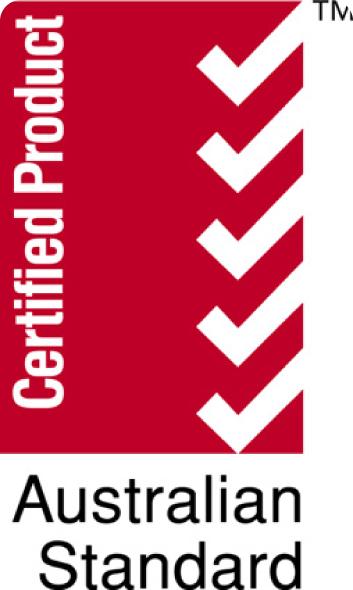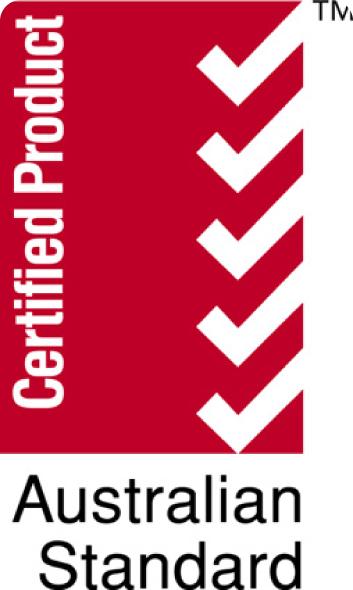 U.S.A. | Federal Motor Vehicle Safety Standard No. 213 (FMVSS 213)
Canada | Canadian Motor Vehicle Safety Standard 213
When originally introduced in 1971, the FMVSS 213 safety standard did not include dynamic testing of child car seats. It simply specified that a seat belt should hold the child in place in the car. It did not include rearfacing car seats either. In 1981, the FMVSS 213 was amended to include dynamic tests of all car seats for children under 50 pounds, establishing the basic elements of the standard used in the US today. It included rearfacing restraints, car beds, 30 mph crash tests and buckle release force (so a child cannot release the harness) en special labelling and instruction criteria.
Child car restraints are generally compulsory in the United States and Canada. Check for an overview of the current child Car seat laws in the US and Canada.