^
Safety turns easy, now from birth
From birth up to approx. 4 years
From 45 to 105 cm
0 - 19 kg
Why Choose Me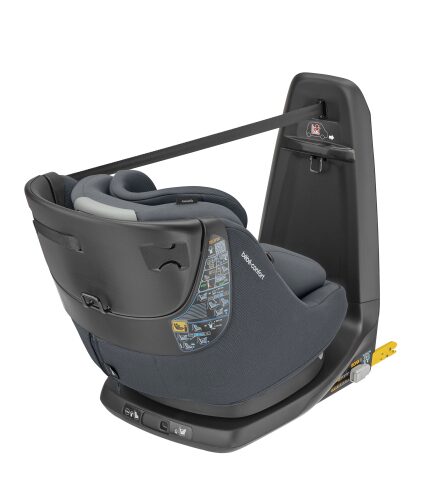 i-Size safety
i-Size safety: rearward-facing travel up to approx. 2 years (87cm), for enhanced protection of head and neck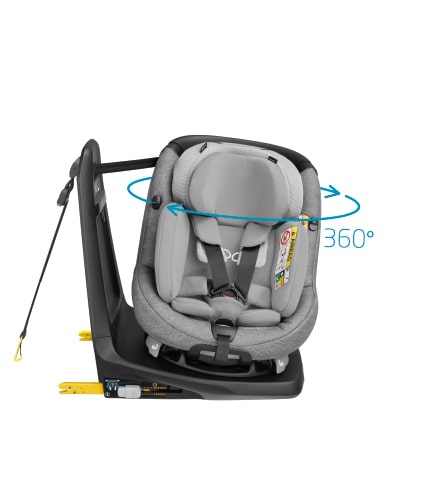 360° swiveling seat
360° swiveling seat to make the child installation easier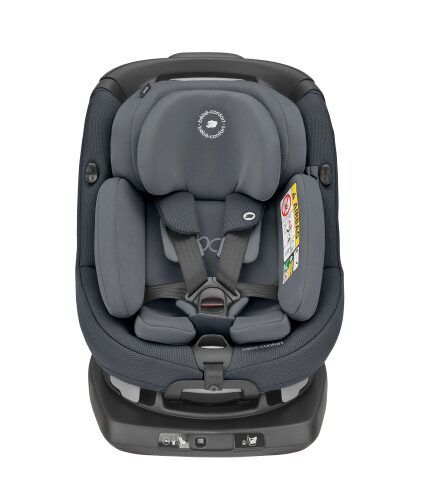 Grows with baby from birth to 4y
Grows with the child from birth with a comfortable safety inlay for newborn babies, up to approx. 4 years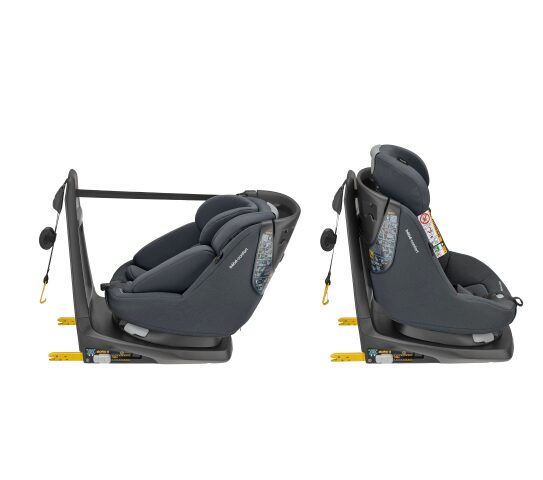 Rearward & forward-facing travel
Rearward-facing travel from birth to approx. 2y, 45-87cm, & forward-facing travel from 76-105cm (>15m to approx. 4y)
Product description
The Bébé Confort AxissFix Plus rotates 360° for ease of use, and complies with the latest European i-Size safety standard. It offers rear-facing travel up to approx. 2 years (87 cm) for improved side impact protection. Safety and comfort is ensured from birth!
Installation
Install the Bébé Confort AxissFix Plus in your car, using its ISOFIX connectors and top tether for a safe and practical installation. Check the user manual or read our checklist for correct ISOFIX installation. First connect the AxissFix Plus to your car's ISOFIX connectors, and then attach the top tether to the anchor point in your vehicle. This way, the AxissFix Plus offers you a very safe, easy and correct installation. Since the rotating seat faces outwards, you can secure your child in seconds!
Safety
At Bébé Confort we have carried over 50 million babies home from the hospital. For us, your child's safety is Bébé Confort's top priority. External crash test centres, such as the German automobile organisation ADAC (Allgemeneir Deutscher Automobil-Club), tested our AxissFix Plus on dynamic safety and ease of use, and rated it as good.
Bébé Confort AxissFix Plus is compliant with the latest European i-Size safety standard for improved safety performance. Our AxissFix Plus ensures better head, neck and body protection for your little one starting from birth. It enables up to 87 cm (approx. 2 years) of rear-facing travel, which is considered the safest travel position for children.
A practical and safe ISOFIX installation is ensured with AxissFix Plus. The Top Tether system makes the installation even more secure by reducing forward movement. You can set off with full confidence once the indicators notify you that the ISOFIX installation and Top Tether connection is correct. We have also inserted impact-absorbing material in the headrest of the AxissFix Plus car seat to provide your little one with extra protection.
In addition, the 5-point integral safety harness, anti-slip harness pads for high restraint performance in case of a frontal impact, and Automatic Safety Belt for keeping the seat and base connected, always ensures your little one's utmost safety
Safety is made easy with the AxissFix Plus swivel car seat, now from birth
Our AxissFix Plus combines optimal safety with ease of use—now from birth!
The AxissFix Plus car seat rotates 360°, making it easy for you to get your child in and out in just a few seconds. You no longer have to go through the hassle of leaning over and squeezing in between the car seat and the back of the front!vNot only did we make it easy to use, we made sure that your little one is well protected at all times. That's why the AxissFix Plus complies with the latest European i-Size safety standard. This swivel car seat offers improved safety performance and rear-facing travel up to approx. 2 years (87cm) for enhanced head and neck protection.
It cocoons your little one from birth with its cosy enveloping inlay, and grows with the child thanks to its simultaneous headrest and harness adjustment. You can use this convertible car seat first positioned for rear-facing travel, and then for forward-facing travel. The height indicator lets you know when it's time to switch from rear to forward-facing travel!
Removable cover
On the road, snacks or drinks may not always end up where they are supposed to. You little one could also get car sick. No matter what happens, we are there for you: Bébé Confort's car seat cover is machine washable and can be easily removed.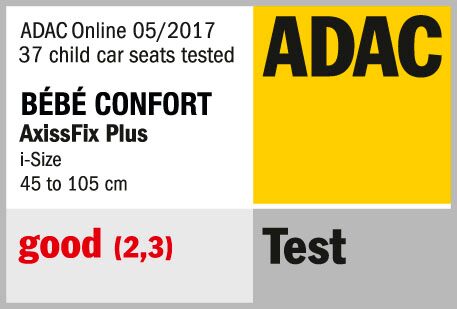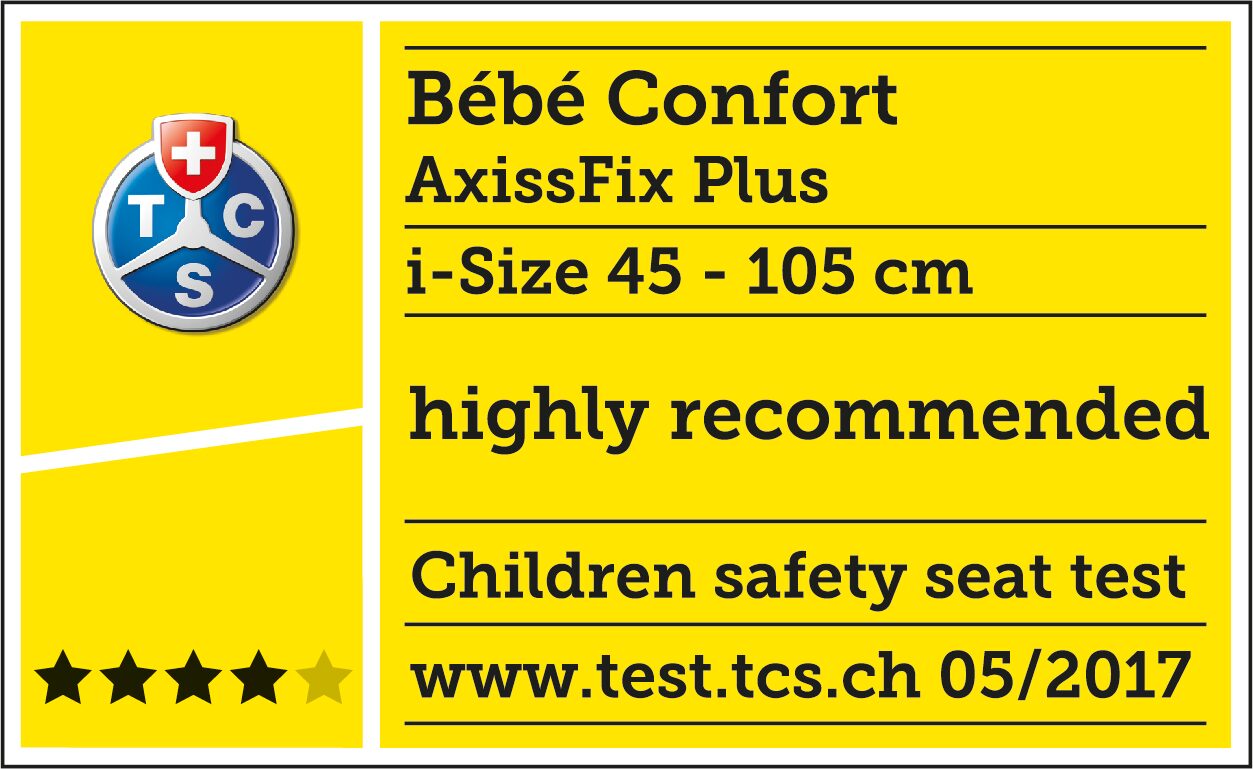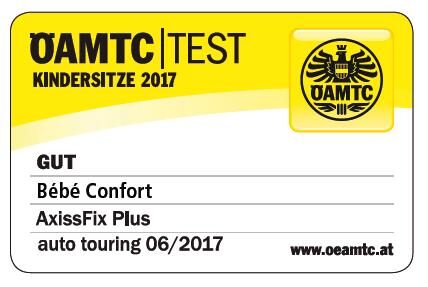 See it in action