^
Sleep, slide & go - Jade. The healthy carrycot for safe and cosy journeys.
From birth up to approx. 6 months
0 - 9 kg
Why Choose Me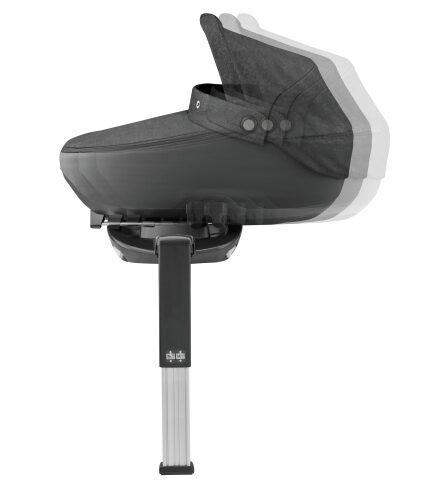 Unique Slide & Go ISOFIX installation
Easy ISOFIX installation in cars via unique sliding technique on the 3wayFix base and seamless connection to Bébé Confort strollers.
Perfect lie-flat position at all times
Baby stays asleep in the best possible position in cars and on strollers without waking up no matter the situation, lying on a highly comfortable soft touch inlay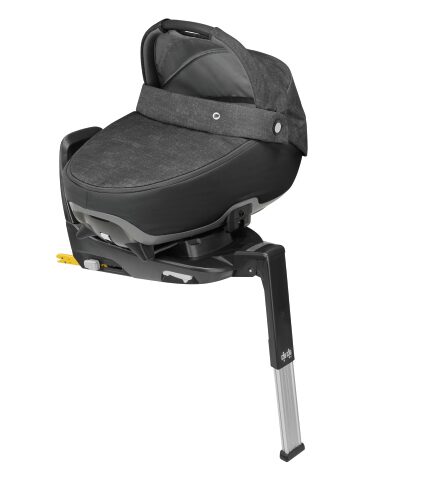 Complies with the highest safety standards (R129)
First R129 approved safety carrycot on an ISOFIX base with interactive light and sound feedback confirming correct installation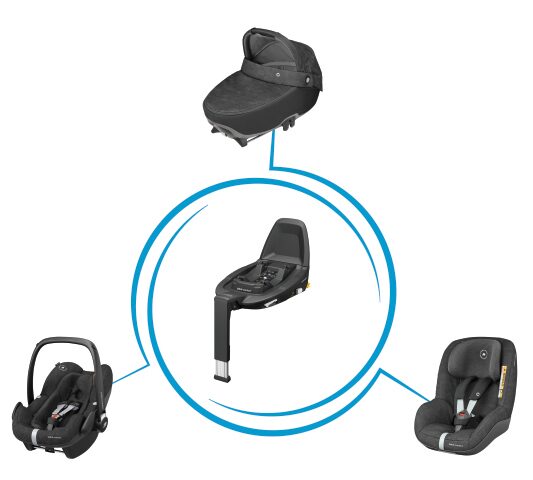 Part of 3way car seat Family
A solution from birth up to approx. 4 years in combination with 3wayFix, Pebble Plus and Pearl Pro i-Size
Product description
Take a look at our unique safety carrycot, Jade! Awarded an outstanding 5-star rating by the German Stiftung Warentest (STIWA), Jade complies with the highest safety regulations (R129) and lets babies sleep longer in the healthiest way on the go.
Installation
Bébé-Confort Jade car carrycot can be installed securely onto the back seat of your car with its unique Slide & Go installation!
Install the Bébé-Confort Jade Carrycot by simply sliding it onto the 3wayFix ISOFIX car seat base. With one simple "Slide", you are ready to "Go".. The interactive light and sound feedback from the ISOFIX system makes it even easier.
Thanks to the unique Slide & Go installation, you can also transfer your baby from stroller to car without waking them up, allowing for the easiest and safest journeys yet.
Safety
At Bébé-Confort we have carried over 50 million babies home from the hospital. Your child's safety is our top priority.
Experts suggest that newborns shouldn't travel in an upright position for more than two hours straight, and they should sleep as much as possible in the best position—flat on their back. Yet, we still see babies placed in seats for longer than recommended.
This has driven us to develop Jade – a car carrycot that enables the healthy lie-flat position and allows for undisturbed sleep while traveling by car. It is like another bed for your baby! That's why you no longer need to worry about their comfort and safety when taking them on long trips.
Our innovative way of combining the comfort of carrycots with the safety and convenience of car seats, has been given an excellent 5-star rating by the Stiftung Warentest (STIWA)*.
In addition, the Jade safety carrycot complies with the latest and highest safety regulation (R129), giving your newborn improved head, neck and side impact protection.
Are you not confident enough when it comes to installation? We've got you covered! The interactive light and sound feedback on the 3wayFix base will confirm correct installation, and Jade's 3-point safety harness allows you to fasten your little one firmly and safely.
* Stiftung Warentest is the German leading and independent consumer testing organisation. They carry out bi-annual car seat tests on safety, usability and ergonomics. STIWA highly recommends Jade for newborns.
Safe and cosy carrycot for longer trips
Car seats are for traveling, carrycots are for sleeping. We have combined them to offer a solution for your newborn to travel safely and sleep comfortably for long trips!
As safe as a car seat and as comfortable as a carrycot, not only can our Jade carrycot be securely installed in your car, it also provides a 180° flat sleeping position, the safest and healthiest way for your newborn to rest.
This way, the safety carrycot offers the utmost comfort for sleeping babies during short rides to the supermarket and longer family trips.
The Jade does not compromise on the safety of your little one. Complying with the highest safety regulation (R129), Jade offers proven head, neck and side impact protection.
It is very easy to install onto the 3wayFix base in the back of the car, providing a safe ISOFIX and a highly convenient Slide & Go installation.
With its modern design and leather finishing, Jade becomes a very stylish pram in just a few seconds when you attach it to any Bébé-Confort stroller frame. You don't even have to wake your little one up when making the switch from the car carrycot to the stroller!
Travel system
Bébé-Confort Jade is part of the 3way Family, offering a solution from birth up to 4 years. The Jade fits on the 3wayFix ISOFIX base, which is also compatible with the Pebble Plus baby car seat and the Pearl Pro i-Size toddler car seat.
This gives you a solution from childbirth up to 4 years of age.
And it fits on any Bébé-Confort stroller for a practical travel system!
See it in action