^
Take comfort in versatility
From approx. 6 months up to 4 years
0 - 22 kg
Why Choose Me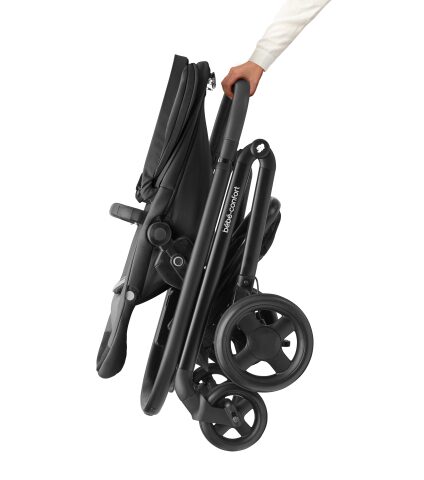 One-hand flash fold
Keep your baby close while folding the Lila CP, thanks to the easy one-hand folding feature.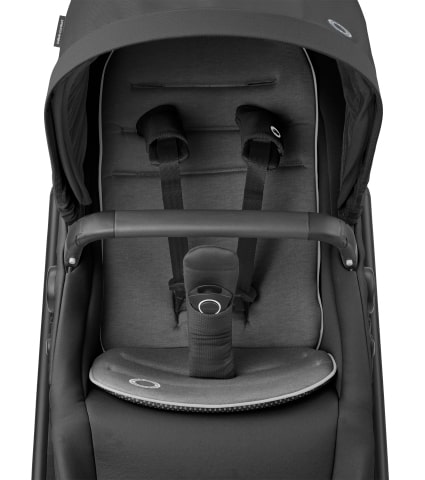 Easy-in harness
The harness' open position allows you to easily install your little one correctly in the Bébé Confort pushchair.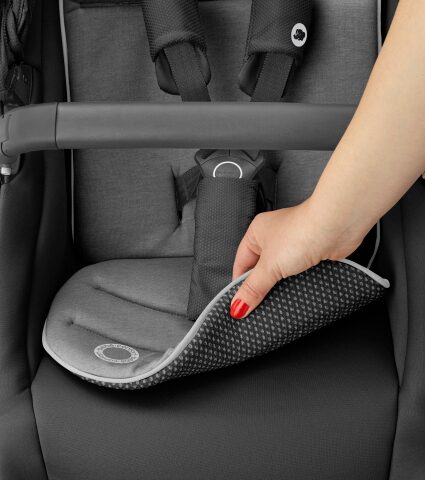 Thermo-regulated mattress
Keep your child comfy and warm, with the special mattress that has a summer and winter side.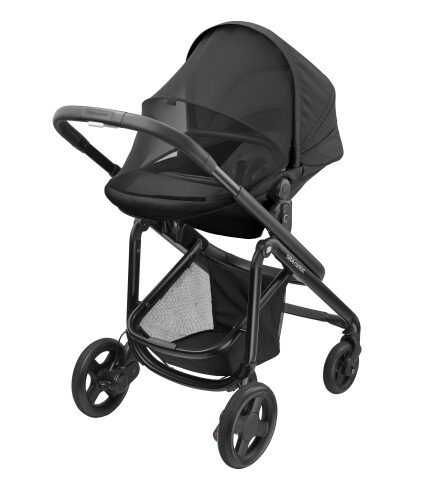 Integrated nap keeper
Block bright sunlight or protect your little one from mosquitos for undisturbed naps on-the-move.
Product description
Perfect for strolling through the park, in the city and beyond, Lila CP is the most versatile member of the Lila pushchair family. Bébé Confort Lila CP combines comfort and versatility, making it easy to manoeuvre both in urban and suburban environments.
Comfortable pushchair
Going for a long walk in town or just a normal day in the suburb? Any journey will be comfortable with the Lila CP. The pushchair has mid-size wheels and four-wheel suspension, that makes it highly manoeuvrable.
Our Bébé Confort Lila CP pushchair has an integrated easy-in-harness, a feature that is becoming more and more common in car seats, but is first in class in pushchairs. The special harness has an open position when the pushchair is empty, so you can easily put your child in the pushchair. Ideal for any day-to-day situation!
Comfort
At Bébé Confort your little one's comfort is our highest priority. That is why, as manufacturer, we designed a pushchair that provides the utmost comfort. Lila CP has a thermo-regulated, reversible mattress with breathable mesh fabrics for summer on one side, and a warm fleece fabric for winter on the other. Your little one will be so comfortable, that they will want to take a nap in this pushchair seat! And thanks to the integrated nap keeper, they won't be disturbed by mosquitos or a bright sun. For extra comfy naps on-the-go.
Combine our Lila CP pushchair with our compatible ShapeOfYou Carrycot (sold separately). This carrycot has a unique design that allows your little baby to lay in a more natural position. It has a shaped cavity that prevents flat-head syndrome and keeps the smallest babies save and comfortable from day one.
Take comfort in versatility
Bébé Confort Lila CP combines comfort and versatility. Its four mid-size wheels each offer suspension for easy manoeuvring both in urban and suburban environments. The perfect Bébé Confort pushchair for a stroll in the park, through the city and beyond.
And when it's time to go home, the one-hand flash folding feature allows you to easily fold the Bébé Confort Lila CP using only one hand, allowing you to hold your little one in the other.