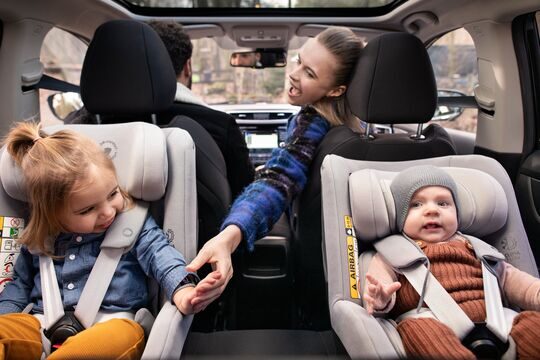 Car seats
Our innovative car seats have made Bébé Confort your trusted partner for safe, comfortable travel for decades. Discover our latest solutions in all car seat groups and car seat ages. And let us help make every journey easy.
Bébé Confort Car Seats
All our Bébé Confort car seats are designed and manufactured with you and your family in mind. As we value your families safety, every car seat we develop is thoroughly tested in our own test centre and by independent safety organizations like ADAC. With a Bébé Confort car seat you can travel carefree, from your first ride home from the hospital with a baby car seat up to elementary school in a group 2/3 car seat. For every situation we offer the best solutions for your needs.
At Bébé Confort we offer different Isofix car seats in different age groups. Installation with ISOFIX minimizes the risk of incorrect installation and provides a solid connection with the ISOFIX anchors in your car. No worries if your car doesn't allow for ISOFIX installation our belted car seat are just as easy to use. Just follow the instructions in the included manual and you and your little one are ready to go!
Looking for a car seat but no clue where to start? At Bébé Confort we love to help! Check out our car seat advisory tool for direct help or browse any of our articles to learn more about rearward travelling or how to choose your first car seat!