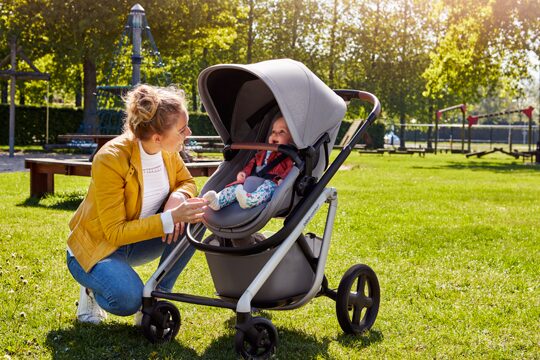 Strollers
Our strollers and prams are created to suit every lifestyle. Whether it's a light Bébé Confort stroller for easy travel, tough-terrain wheels for off-road adventures, or a convenient 3-in-1 travel system, you'll find your perfect match.
Bébé Confort Strollers
A stroller is so much more than a way of transporting your baby. Exploring the world with your little one should be comfortable and fun for the both of you. Our Bébé Confort strollers are designed to do just that. We combine comfort, design and functionality in every stroller. With a Bébé Confort stroller you will experience the same level of comfort and safety as our highly rated car seats.
Whether you want to cruise the city and do groceries with a lightweight stroller like the Lila CP or go for outdoor adventures with the Nova. Our products are designed to help you navigate the world as a new parent. Easily combine the Bébé Confort stroller range with our baby car seats and carrycots to make it the perfect 3-in-1 stroller for everyday life.
Your choice of stroller will depend on several factors including how many kids you have and what type of terrain you will be navigating. Whether you decide on a model that's modular, ultra compact, or a stroller car seat combo, Bébé Confort will make stepping out with baby a five star walk in the park.
Want to know more? Read our articles about strollers.
Don't forget to check our car seats!